On our own, we show that it's possible to regenerate what we consume. Together, we preserve nature in all of its rarity. Based on six of our ten  'Sourced As Original Beans' principles, here's a snapshot of our joint regeneration impact over the last year.
#TasteTheRareAndPreserveIt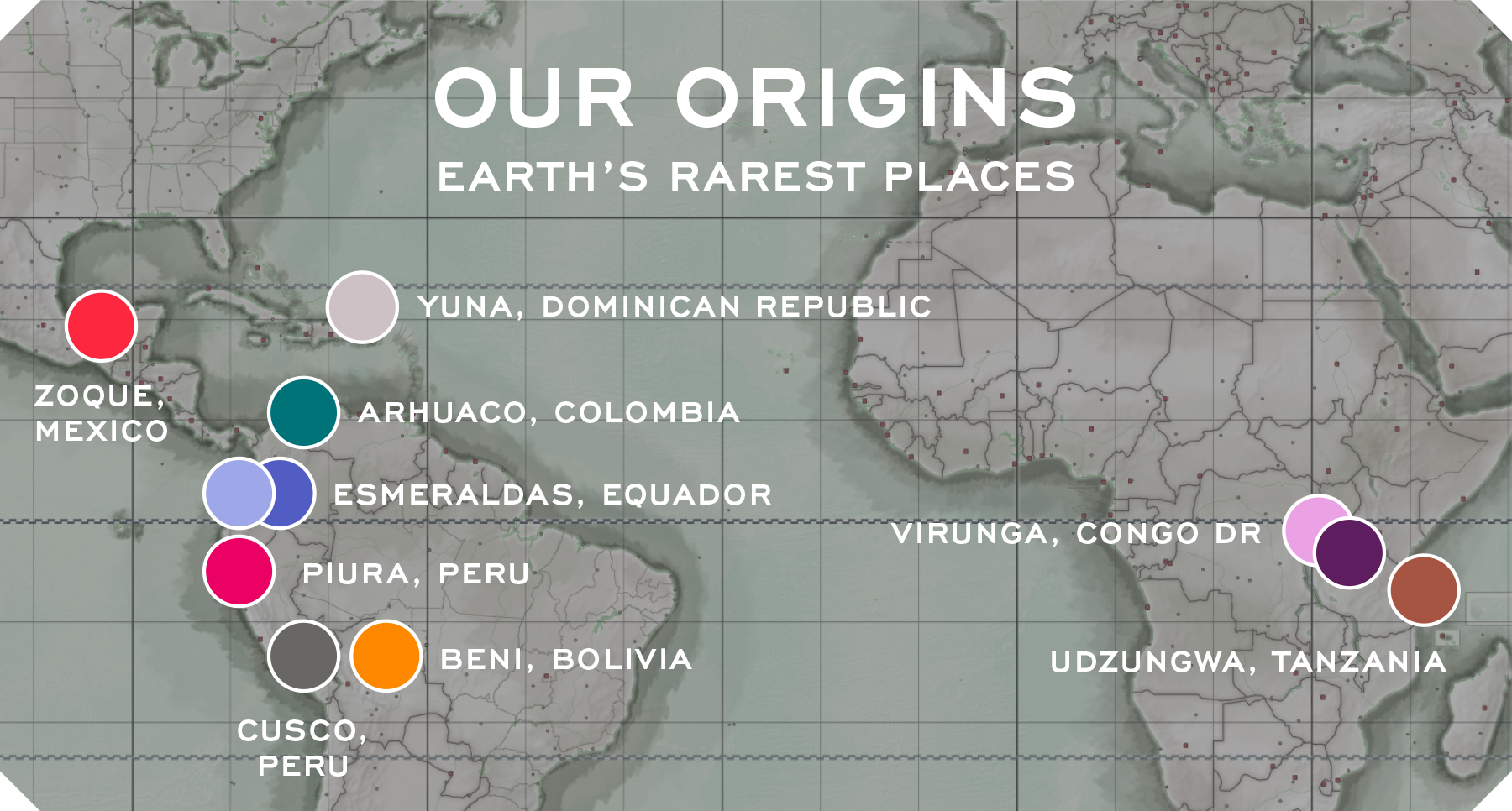 RARE CACAOS
Preserving rare cacao varietals, the original beans, is our mission. We find them exclusively in biodiversity hotspots, the world's rarest places in nature. With the local village communities there we register and monitor areas for forest protection. Together with them and you, our customer, we are in time to save beans and forests of distinction from extinction.
8

8

24,325

rare cacaos preserved in
biodiversity hotspots

soccer fields of
rare forests
protected

.
FAIR+ TRADE
Becoming an Original Beans grower is like moving from a temporary work contract into a long-term employment at twice the income. Cacao becomes a source of security and pride, not exploitation. In addition to multi-year cacao purchase agreements with Original Beans, families grow their own food and sell surpluses in the local farmers markets.
| | |
| --- | --- |
| 1.75x | 2,041 |
| Fairtrade cacao price paid directly | cacao growing families' lives improved |
PURE CACAO
To highlight the delicious diversity of original cacaos is our passion. So we don't blend – not on the farm, not in our manufactory. From the best beans we make the best chocolates. We don't need additives: no emulsifiers, false fats, industrial sugars, nor aromas. Just compare our ingredients lists to other chocolate brands!
100%

0%

single varietal chocolates
lecithins, vanilla, other additives


.
CLIMATE+ PROTECTION
It is the way we grow cacao in organic forest gardens, climate-optimize our value chain – from Europe's most climate-conscious paper mill to saving energy in our warehouse -, and protect old-growth forests that results in climate-positive products and CO2 drawdowns. Our One Bar : One Tree Programme is adding hundreds of thousands of new trees each year.
| | |
| --- | --- |
| 12,860 | 1,615,572 |
| tons of CO2 drawn-down | trees grown in origin |
ZERO WASTE
Since 2012, we have been offering retail chocolates in zero waste packaging. In 2020, we launched the world's first zero waste couverture pack for leading restaurants and hotels worldwide. Life cycle analysis shows that our packs are more than 80% better for nature and people than conventional packaging.
| | |
| --- | --- |
| 1st | 1,833 |
| ever zero-waste couverture pack launched | tons of packaging waste eliminated |
BETTER TOGETHER
Together with partners and donors we fund dedicated conservation projects for rare animals in our origins, such as elephants and condors. Meanwhile, the community of craft brands that follow the Sourced As Original Beans standard for their products is growing as a force for good. Together, we regenerate ourselves and our earth… with chocolate.
| | |
| --- | --- |
| 70+ | 136K |
| craft brands follow "Sourced As Original Beans" standard | USD funding to conservation projects in origin |